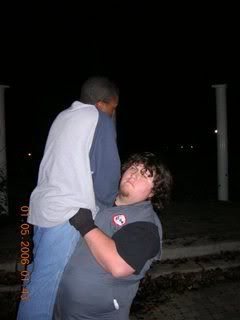 NAME: Mr. Graves
LOCATION: Hill Crest Cemetary
HEIGHT: 6' 1"
WEIGHT: 380
MATCHES FOUGHT: 25
MATCHES WON: 14
MATCHES LOST: 11
MATCHES TIED: 0
WRESTLING STYLE: brawler/power/hardcore
FAVORITE STYLE MATCH: Hardcore
ARCH ENEMIES: Psyclone J, Grinner
ALLIES: None
AFFILIATED GROUPS: None
NICKNAMES: Shovel Man
FAVORITE QUOTE: "Someone's going in the hole"
INTRO SONG: "The Rise and Fall of Sadism" - Plaguesayer

FAVORITE MATCH: Singapore cane match/ anything hardcore

MOST DANGEROUS MATCH: Singapore Cane Match VS. Psyclone J for the Streetcore Championship
TITLES HELD: WTFW Streetcore Champion (since March)

FINISHER: Graveplot
TRADE MARK: Big Splash/ Splash in Corner
PREFERED WEAPON: The Shovel/ Kendo Stick.

NEEDLESS INFORMATION: His Family's cemetery has over 132 people laid to rest there, which means it's a big family. Or, maybe it means something else...
SHOUT OUTS: "F**k Everyone."