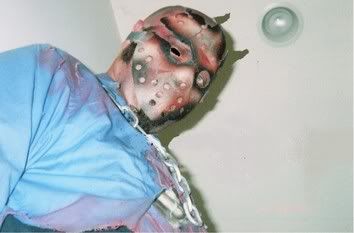 NAME: Jason Vorhees
LOCATION: Camp Crystal Lake, New Jersey
HEIGHT: 6' 3"
WEIGHT: 255 LBS.
CONFIRMED KILLS: 150+
MATCHES FOUGHT: 15
MATCHES WON: 15
MATCHES LOST: 0
MATCHES TIED: 0
WRESTLING STYLE: Power Moves, Hardcore
FAVORITE STYLE MATCH: Anything with sharp objects
ARCH ENEMIES: Almost everyone
ALLIES: Reficule
AFFILIATED GROUPS: none
NICKNAME(S): Momma's Boy, O.G. Campground Killer
FAVORITE QUOTE: *CH, CH, Ch,ch, ch....HAH, HAH, HAh, hah, hah....*
INTRO SONG: "He's Back(the man behind the mask)", by Alice Cooper
FAVORITE MATCH: bloody matches
MOST DANGEROUS MATCH: Any match he is in.
TITLES HELD: None, Jason doesn't worry about championships.
FINISHER: the Crystal Lake Plunge (Pumphandle Tombstone Piledriver)
TRADE MARK: Backbreaker
PREFERED WEAPON: Machete
NEEDLESS INFORMATION: Jason Vorhees really had no reason to enter the ring... Other than the fact that there are no movies in production at the time.
He came to WTFW because he is looking for Reficule, his only considered friend.
SHOUT OUTS: On behalf of Jason Vorhees, I'd like to say that he dedicates every match to his mother and the unfortunate dogs that Micheal Myers felt like killing.