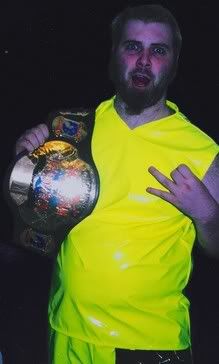 NAME: Vinny Rattlocke
LOCATION: Vinniapolis, Vinniana
HEIGHT: 6' 3"
WEIGHT: 254 lbs.
MATCHES FOUGHT: 113
MATCHES WON: 82
MATCHES LOST: 28
MATCHES TIED: 3
WRESTLING STYLE: Hybrid V (psychological & hardcore brawler)
FAVORITE STYLE MATCH: Makeshift Midgets match (have to wrestle on your knees, you get on your feet, you're disqualified)
ARCH ENEMIES: Rob Kinkaid, Lord Haydes, Outlaw, Blasko, Necrobutcher
ALLIES: Corporal Robinson, Riot, Danny Boy, Jonny Vandal
AFFILIATED GROUPS: the Ratt-Pakk, Team Action Figure!
NICKNAMES: Boathand, Chewy, Highlighter Man
FAVORITE QUOTE: "This Close!"
INTRO SONG: "whatever i'm feeling like listening to."
FAVORITE MATCH: 1st ever roulette match against Riot
MOST DANGEROUS MATCH: 12 man fans bring the weapons deathmatch battle royal
TITLES HELD: RCCW X-treme Champion, DHWA tag team champion
FINISHER: F-bomb (fallaway Flatliner)
TRADE MARK: basterd kick
PREFERED WEAPON: A toy boat

NEEDLESS INFORMATION: Vinny wasn't always known as boathand. in march of 2004, he needed a weapon to come out with for a hardcore match. everyone else had barbedwire bats, chairs, and thumbtac covered items. when rooting around in the trashcan, vinny finds a plastic toy speedboat. he comes out with that. and in the middle of the match, he puts the boat on his hand and starts screaming "boathand". well, he never leaves without it.

SHOUT OUTS: To all the jackasses that said I couldn't do it. kiss my ass! And to all of my fans... Thank you for finding something special in my zainy way of being.